Xante Plate Maker 5 Laser CTP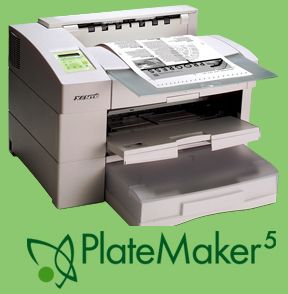 The Xante Plate Maker 5 Laser Printer Chemical Free plate maker!
This Computer To Plate (CTP) platemaker is chemical-free and process-free and images paper proofs and polyester plates for sharp images and good halftones. With the Xante Platemaker 5 we will go direct to plate which helps us cut down on turn-around time, so that you get your project in your hands sooner.
Great images, faster turn-arounds, but best of all NO CHEMICALS! With this plate maker we will cut our chemical usage in plate making by as much as 50%!
The Xante Plate Maker 5 is the best laser based polyester plate maker in the USA!
We're committed to reduce our chemical usage and help clean up our environment!
A GREEN Machine!!!